Calling all aspiring women entrepreneurs and business enthusiasts! The highly anticipated WEInspireTX Women's Entrepreneur Summit is back for its second year. It is ready to ignite the entrepreneurial spirit and provide a platform for women to excel in their business endeavors. This empowering event will occur on November 15, 2023, at the prestigious Accasisa's Event Venue in Fairview, TX.
WEInspireTX is a day-long summit dedicated to inspiring women entrepreneurs and guiding them toward launching, growing, and succeeding in their businesses. With a focus on empowerment, practical advice, and valuable connections, this event promises to be a game-changer for women looking to make their mark in the business world.
"We are thrilled to bring back the WEInspireTX Women's Entrepreneur Summit for its second year," said "Super" Dave Quinn, CEcD, the event host and economic development manager for Fairview Texas EDC. "Our goal is to provide a supportive and educational environment where women entrepreneurs can gain the knowledge, inspiration, and connections they need to thrive in their business journeys."
Special Key Note Speakers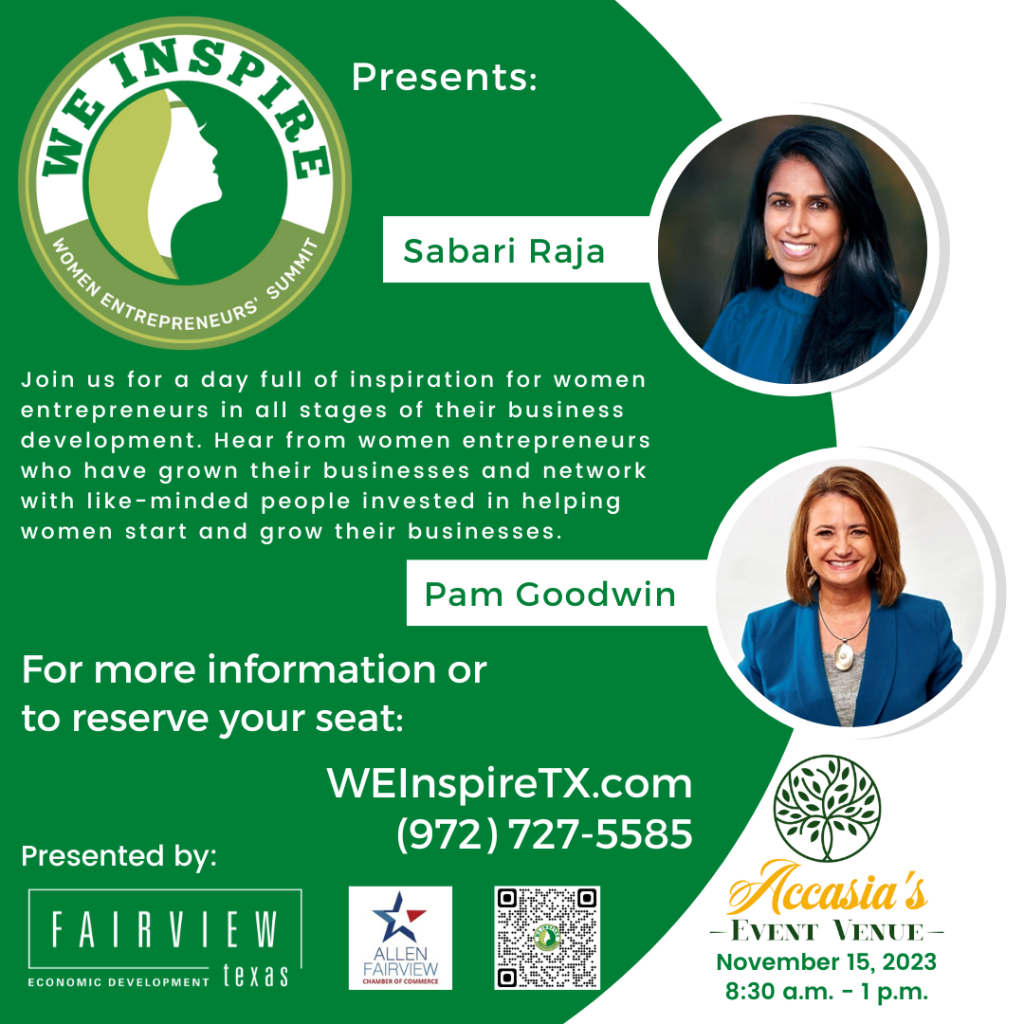 The summit will feature renowned keynote speakers who have achieved remarkable success in their respective industries. Sabari Raja, an experienced entrepreneur and expert in team building, company culture, and business strategy, will share her invaluable insights with attendees. Pam Goodwin, founder of Goodwin Commercial and a recognized commercial real estate expert, will provide strategic advice for investing in the real estate market. These accomplished women will inspire and empower participants with their stories of triumph and resilience.
Bonus Tracks
In addition to the inspiring keynotes, the summit will include engaging workshops, panel discussions, and networking opportunities. Attendees can participate in a power-packed panel discussion, where successful women entrepreneurs will share their journeys and offer practical advice. The event also offers two bonus tracks.
Ashley Ford, founder of Pretty Penny, will also host an exclusive workshop on Profit-Focused Goals, helping participants better understand the financial side of their businesses and achieve long-term profitability.
Andrea Patrick, founder of Andrea Patrick Consulting, will share her BU Method. It's for FIERCE females who want to be unapologetically authentic, reimagine their value, redefine their voice, and reevaluate how they execute their vision to crush their dreams!
The WEInspireTX Women's Entrepreneur Summit welcomes women from all industries, including e-commerce, influencers, real estate, retail boutiques, and artisans. Whether you're a seasoned business owner or just starting, this summit is designed to cater to your unique needs and aspirations.
Last year's summit received rave reviews from attendees.
Dr. Kella Price, SPHR, CPTD, SHRM-SCP, described it as "an impactful summit with networking and good professional development." Tami Gilmore, MA LPC, emphasized the incredible people and experiences at the summit. Cynthia Thompson, Shine and Fly Influencer for Women, highlighted the importance of growth, learning, and supporting fellow women entrepreneurs.
Seeking Partners
WEInspireTX is seeking partners who share a passion for women's entrepreneurship to make this event a success. Potential partners include CPAs, marketing agencies, fractional COOs, fractional CEOs, bookkeepers, insurance agents, banks, small business lending institutions, and executive coaches. Partnership packages are available at various levels, providing visibility, networking opportunities, and exposure to a dynamic audience of women entrepreneurs.
Take advantage of this transformative opportunity to connect, learn, and grow as a woman entrepreneur. Register now for the WEInspireTX Women's Entrepreneur Summit and join a community of like-minded individuals ready to support your success. 
Partnership Opportunities
To inquire about sponsorship opportunities or register for the summit, please contact Terri Martinez at the Allen-Fairview Chamber of Commerce—call (469.656.4232) or email terri@allenfairviewchamber.com to secure your spot.
Summit Details
WHAT: WEInspireTX Women Entrepreneurs' Summit www.WEInspireTX.com
WHEN: November 15, 2022, 8:30 AM – 1:00 PM (1 hour post-summit workshops available)
WHERE: Accasia's Event Venue, 351 Southwind Ln, Fairview, TX 75069
WHO: Sabari Raja, Pamela J. Goodwin, Lorie Vincent, Erin Gregor, Carrie Nuckolls, Sasha Crabtrey, Ashley Ford, Andrea Patrick Angi Burns
WHY: To inspire women to launch, grow, and succeed in business on their terms.
HOW: Registration is required: Register today at https://WEInspireTX.com
MEDIA RSVP: Please RSVP at terri@allenfairviewchamber.com with the reporter's name and press outlet by 5:00 p.m. CST, Friday, November 10. Additionally, media interested in one-on-one interviews should submit requests in advance.