Ieshea Hollins is a woman who knows who she is and what she does best. She loves taking things apart and putting them back together. Solving problems makes her heart happy.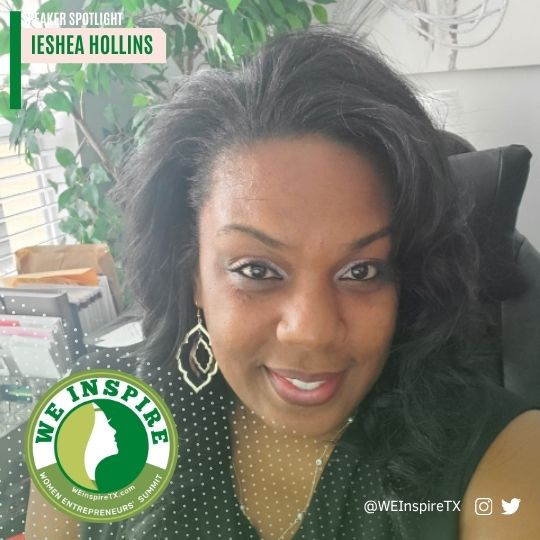 However, she's complex and multi-dimensional as well. Because she doesn't quite fit the mold of the typical "computer science" person, she doesn't want to sit in the corner of a dark room and code. She is an extrovert and loves people too much for that. It's good that she knows that molds are meant to be broken because that's what she has done with her career and her company.
Now, as a business owner, CEO, mentor, and mother, Ieshea encourages women everywhere to break their own molds and chase their dreams, just like she did.
We're thrilled to have Ieshea on our Power Panel at next month's WeInspireTX Women Entrepreneurs' Summit. She is sure to bring wisdom and mic-drop quote moments you won't want to miss. In the meantime, we thought we'd share this conversation with you so you can get to know her better before the event.
Thank you so much for joining us, Ieshea. We are beyond excited to introduce you to our audience. But before we dive into the meaty stuff, please give us a quick biographical background that will help the readers know who you are first. 
Yes. I am Ieshea Hollins. I am the second oldest of four girls raised by my parents, both pastors in our small Lousiana town. I'm a graduate of the University of Louisiana, Monroe, where I am still very active in the community.
As a young girl growing up, I always wanted to know how things worked. I was constantly taking things apart and putting them back together again. Now, this was long before computers were cheap enough to dismantle. They were thousands of dollars a pop. But I still was fascinated by the concept and wanted to know, even then, how they worked. In fact, my dad told me that I needed to be a legalized hacker when I grew up.
This is funny because he said this before a "hacker" was ever really a thing. But it showed that he knew he wanted me to do whatever I was genuinely fascinated with. And, of course, it's funny too because of where I ended up, as the CEO and owner of Direnzic Technology, a Cybersecurity firm.
Oh, and I'm also a mother to two beautiful children.
Thank you so much for sharing. What is interesting is that you knew from a young age that you wanted to do something in technology. Or, at the very least, you were fascinated by it. However, we're confident it wasn't a straight line to get there. Can you tell us a little about the journey from "I like to take things apart and put them back together" to "I run my own Cybersecurity firm?" 
Well, it wasn't. I'm not sure if it ever is. When I graduated high school, I had scholarships to every school in Louisiana. However, my dad took LSU off the table. He wanted me to stay close to family, which I understood. So I went to the University of Louisiana, Monroe, on a full academic scholarship. There I majored in both computer science and music. But as I continued in computer science, which I loved, I realized that I was the only woman in the room. And that most programmers stay in dark corners with little human interaction and tons of code. So, not sure if you can tell this already by talking to me, but that was not going to work for me. Nobody is going to put baby in the corner! So I began investigating what I wanted to do with my degree. I loved the problem-solving of computer science. I loved starting with a blank screen and creating something. But I also knew it wouldn't work for me in the long run. I'm a people person and a collaborator, so I knew I needed to find a way to marry my two passions.
When I graduated, I worked for Centrelink in IT, where I eventually worked in IT recruiting in Louisiana. At this point, I was traveling all over the state, and when I was in my car, I was listening to a True Crime news story that involved cyber security. I was fascinated with the intersection of cyber security and law enforcement, but I also started to brainstorm how to make this a business.
To make a long story short, I identified a niche and started building relationships with local law enforcement and attorneys working with cybersecurity. Most of this was on a volunteer basis.
But I knew I wanted to run my own shop, too, so I started to make a business out of it. It wasn't an easy path–I had to do pitch competitions, I gave a lot of free seminars to educate the people in the area (that was primarily agricultural), and I had a lot of different evolutions. But I did it, and I opened Direnzic Technology.
Now let's talk about risk. Risk seems to be a central theme in your personal and professional journey. But we'd love to hear what you think is the most significant risk you've taken in your career. 
Yes. Lots of risks, for sure. But I'd have to say I'm passionate about what I do. But I also know many people out there are passionate about what they do, but they're also broke. I was working in a space where I knew everybody needed my services, and I was passionate about educating people about it. But when a person can't understand what they need, and I'm spending all of my time, for free, educating them on the WHY behind it, I'm a good conversation but not a good business.
I started my business by giving free seminars and educating people, and I got stuck where people didn't want to pay for what I was offering. As a woman in this space of men, I was lowering my price to get a foot in the door–the same foot that men don't have to beg you for. And my business was suffering.
That's the risk we as women face; if you're caught fighting too hard, that's a stigma. If you're too silent, closed mouths don't get fed—that in and of itself, risk, risk, and more risk.
Woah. Woah. Woah. That is a mic-drop moment. Do you feel as if women undervalue themselves to try and get a place at the table when we should just be building our own table like you did? 
Yes. We are the most undervalued. And it starts at home. Kids love daddy because daddy goes out and gets the money. We didn't see any of mommy's sacrifices to make the world go around. We think, "Oh, that's just mom." We have watched this legacy, but we're not supposed to say anything about it. The undervaluing started as a kid; you don't speak up as a girl. All we strive for is to get married. We do not understand every hat you will wear to successfully pull your family where your spouse will never get you. You need both men and women; I'm not anti-man. You need both. We just were taught to value men more. This is true in business as well as our homes.
Wow. So much wisdom and truth in there. But now, let's talk about obstacles. What is one obstacle you faced as a woman in business? 
There are just so many. Resources. The lack of resources. Women don't view money the same. We're less likely to get the funding we need, and even if we get funding, we're not going to get enough. Because we think that in our business, we can clip coupons like at a grocery store, and you can't. We tend to ask for less money and get less money. I am a woman in tech, and frequently I'm dismissed before I walk in the room, yet I still have to go in and give my presentation knowing this. Often you, as a woman, you have to play yourself down. You have to not be authentically YOU. This is huge, especially after you've spent so much time learning and finally giving yourself permission to be YOU. It's hard to placate. You're placating yourself and there's no worse feeling than that. But you overcome it because you have to grow your business.
The other obstacle is that we as women abandon our dream to support other people's dreams because we think there will always be time. Then we roll over and realize that we're forty, and we think, 'Man, am I still even a viable option?"
Now, here is the last business question before we get to the fun stuff. What is the one piece of advice you have for young women just starting on their entrepreneurial journey?
Believe in you. If you want to do it, do it. Stop running your ideas by other people. When you close your eyes, and you go to sleep, and you have a dream, the dream is yours. The only person who saw it was you.
Convincing someone to see what you saw and to bring your dream to life; you're never going to get there. You're going to have to bake that cookie yourself. You have to reach in yourself, pull it out and confidently serve it up. I don't care if it's a little too salty the first time. Bake it again and again. It's ok to dream, to deliver, and to fail on delivery. Just try again. Believe in yourself and stop abandoning your dream because someone else told you it couldn't be.
The other one, find a mentor. Find someone that can get in your corner. It doesn't have to make sense, and I don't need your permission. I just need you to support me where I'm going. That's so important. The value of sitting in rooms and listening to other people talk. It's so important.
We could dissect this last bit of commentary for hours with you. But so we don't monopolize your time, we'll get into the fun questions now. We ask the same three questions of everyone, just as a way to let our readers know who you are outside the boardroom. Ready?
What three things would you take with you to a deserted island? 
Food. Seriously. Food. Water. And I'm going to regret this one, but a really good man, right? I don't know how long we're there for. I might drown him the third day, but just for a little bit. It's supposed to be a good book. But that's all lies. It's a good man.
Who would it be if you had 30 minutes with anyone, dead or alive? 
Barack and Michelle Obama. I want to talk to them before I close my eyes. Tyler Perry, and Steve Jobs.
What do you do for fun outside of work? 
I have very little time for fun. But music is my passion and soul. I was the minister of music at the church before I moved. I love hanging out with my friends, going to karaoke, or just hanging out with them and being US.
There are so many good nuggets of wisdom and encouragement in this piece, and we are grateful to Ieshea for sharing with us so openly. If you want to hear her speak in person, tickets for the WeInspireTX Women Entrepreneurs' Summit in November are still available. You can purchase them on our website www.WEInspireTX.com.
Also, please follow Ieshea on LinkedIn and Instagram to hear more wisdom, cybersecurity advice, and general encouragement.
Mic Drop Quote:
That's the risk we as women face; if you're caught fighting too hard, that's a stigma. If you're too silent, closed mouths don't get fed—that in and of itself, risk, risk, and more risk. 

Ieshea Hollins, ∀-LMNO