Age is just a number. Just ask Campbell McKee, the youngest member of the panel at WEInspireTX Women Entrepreneurs' Summit and owner of Campbell McKee Photos. At an age when most young women are playing high school sports and hanging out with their friends, she is pursuing her dreams, working to grow her photography business, and learning the ins and outs of business ownership.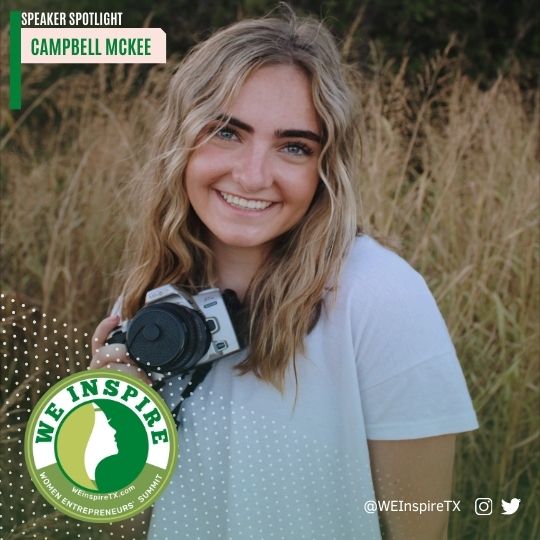 We are so excited to hear Campbell speak on our panel on November 14th. Her perspective is fresh and adds so much value to our power panel, as you'll see in this interview.
Before we begin, please introduce yourself and tell us who you are and what you do so that our readers can meet you.
Hi! I am Campbell Mckee, a photographer from Frisco, TX. I believe it is my job to capture moments and memories that reflect God's beauty.
Thank you. On behalf of all of our readers, we say, 'nice to meet you.' Now, we generally ask panel members what they wanted to be growing up to show that the path to business ownership is sometimes a straight line. Even though you're not quite finished growing up, it's still an excellent question for you. So tell us, what did you want to be when you were 'growing up?'
Yes, I'm still growing up, haha! But I truly desire to be a missionary and use the passion I have for photography and capture different people, cultures, and lifestyles around the world.
What an extraordinary and noble passion. The lucky part of being at the beginning of your entrepreneurial journey is that you have plenty of time to fulfill this desire. We're pulling for you to do it! But let's talk about your business today. Even young entrepreneurs learn that you have to take risks to succeed. Can you tell us about a risk you've taken in your business?
Definitely, sacrificing the "comfortable" things in life in order to grow. For example, I grew up playing softball, and a few summers ago, I realized my love for photography and the church had far surpassed the softball game. So I left what I had known my whole life to succeed in photography and other desires.
That's a significant risk to take to pursue your goals. We are proud of you for taking it and can't wait to see you grow. Another universal part of the entrepreneurial journey is obstacles. No one who owns a business gets away without facing them. What obstacles have you faced in your journey?
As a young woman entrepreneur, it is more so my age that holds people back from booking with me. I have overcome it by still pursuing what I love, no matter what people have said.
That's a hard lesson to learn. During our panel, there is sure to be a lot of discussion about the specific obstacles women face in business, and we know there will be many stories of women overcoming them as well. Now, you're still a young woman in business, but you've already managed to build something thriving, and no doubt have wisdom to impart to women just starting their journey. What is one piece of advice you would give to those women based on your experience?
Whatever you do, do it with passion. Passion gets you through the times you want to give up.
That's so valuable for women at every stage of life and business. Ok. Last business question before we get to the fun part. What is one thing you would do differently if you were to go back and start your entrepreneurial journey from the beginning?
I would definitely create a savings account right off the back. Photography equipment is expensive!! Saving money from each shoot would have given me access to more equipment in the earlier days.
Oh yes! Taking care of those financial pieces is vital to any business's success. That is also great advice to others starting early in their journeys. Ok. Now for the fun part. We've asked every panel member three quick questions just so the audience can get to know who you are before they see you speak. Let's go!
If you were stranded on a deserted island, what are three things you would want to have with you?
A lighter, a Watch, and a journal.
Who would it be if you had thirty minutes to speak with anyone, dead or alive?
Taylor Swift, I want to see how she is so famous so effortlessly.
And finally, what do you do for fun outside your photography business?
I am a barista!! I also serve at my church and go on mission trips!
Campbell, thank you so much for taking the time to chat with us today. We are grateful you are a part of our panel and can't wait to hear you speak on November 16th. If you want to hear Campbell and the rest of our fantastic lineup of speakers, tickets are still available. Grab your ticket today at www.WEInspireTX.com. 
In the meantime, please follow Campbell on Instagram to see her beautiful photography, and book your session today right here.