Marsh Clark is an entrepreneurial superstar. She's been in this business for over twenty years. She helps other entrepreneurs grow their businesses. And to top all of that off, she's an author and podcast host.
Some might wonder where she has time to do all these things, but Marsha is quick to say that her productivity comes from sheer love of what she does, and she feels grateful to be able to continue to do it for this long.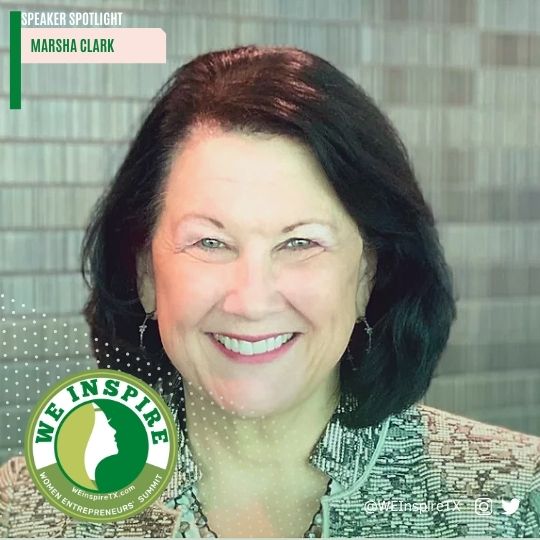 We are honored to have Marsha as a keynote speaker at the WeInspireTX Women Entrepreneurs' Summit on November 16th. She will bring wisdom, encouragement, and sound advice to all who hear her speak. Before then, however, we wanted to give you a chance to get to know Marsha. We were lucky enough to chat with her; just as we expected, she was already dishing out wisdom for us all.
Thank you so much for joining us, Marsha. We have so much we want to learn from you, but let's start with the basics.
Please give us a quick, shortened version of your bio so that our readers know who you are before we begin. 
Absolutely. Thank you so much for having me. I am very excited about the Summit! Now, where to start? I am 70 years old. I have been an entrepreneur for 23 years. Before that, I was in the corporate world for 28 years, mainly in the tech industry, where I held almost every role a person can have within a company. This was also in the early days of tech, so I learned a lot in those roles. Personally, I am a widow who was married to the love of my life for 31 years. I have one son who is happily married and has given me three beautiful grandchildren.
While it's impressive that you've been an entrepreneur for 23 years, and we'll get to that, but we want to talk about your days in corporate America. Twenty-eight years is a long time, and we'd love to hear about your journey throughout those different roles and how they led to where you are today. 
Yes, it was quite a journey. I started my career in 1978 as a secretary at EDS, a tech company started by Ross Perot in 1962. When I started, we had about 5000 employees. When I left twenty-one years later, we had 145,000.
Starting as a secretary, I was on one of the bottom rungs of the corporate ladder, but when I left the company, I was at the top–a corporate officer. In between, I spent half the time in various roles that were support functions–HR, training, and recruiting. There I learned a tremendous amount about the people side of the business.
The other half, I was in what you could call the business side, where I worked as an account executive and president of a healthcare business unit that was just shy of 1 billion in revenue.
I learned what it was like to go from the bottom to the top of a business because I lived it. I also learned what working on all sides of a company was like. And because this was the very early days of the tech industry, I also got to experience growth in an industry that was new, scary, and cutting edge.
The most important part of the puzzle was that I did all of this within a company whose values aligned with mine. Those values were: Treat people right, dignity, and respect for all. Do well for the customer, and work hard.
I imagined myself retiring from that company. However, I eventually left when they brought on a CEO whose values did not align with mine or the company's. It was the hardest decision I ever made.
We can only imagine how hard that must have been. How did you make the transition to entrepreneurship after that tumultuous time? 
Well, when I retired, I was 47 and didn't have to work again if I didn't want to. We had been smart with our money, and I could have retired for good at that point. 
And, for a while, I didn't work. Maybe it was grief or mourning, but I rested and did nothing for the first 30 days. Then, for the next 30, I organized my life–literally–I did everything around the house I hadn't gotten to before. Then, I decided to try and figure out what I wanted to do with the rest of my life from there.
Around that time, a colleague (please understand there was a mass exodus when I left) asked me to help with some consulting work, which naturally rolled into entrepreneurship.
Still, if you had told me that I would be an entrepreneur longer than I worked in corporate America, I would not have believed it. However, what brings me so much joy as a business owner is that I get to choose who to work with as associates and clients. When I'm about to take on a client, I ask two questions:
How much risk are you willing to take?
AND
Are you ready to do the deep work?
If they balk at either, I'm not the woman for them. And that's ok. But I get to choose who I work with and only surround myself with people whose values align with mine, and I love that part.
Ok. We usually ask about risk, but we feel like we might know your biggest risk–leaving your role at EDS. Can you walk us through that decision and risk? 
My most significant professional risk was leaving my job. I was the sole breadwinner, with a young son at home. But let me tell you a funny story that might help you understand how it wasn't actually that risky at all.
As I mentioned, I was the sole breadwinner at that time. When my son was younger, my husband and I decided that he would stay home (he previously worked for EDS as well) and be Mr. Stay At Home to my son. In the meantime, I was unhappy at EDS because the company was no longer in alignment with my values. I was going back and forth about what to do because I felt like I was carrying so much weight. My husband, my biggest champion and supporter, said, 'Listen, we've been rich, and we've been poor. We know how to be poor. We'll be ok.'
Now, we would not have been poor. But this was the push I needed to decide to move on from the comfort zone of my career. It took away some of the risks and reminded me that I was more than my job or paycheck.
What an incredible story. We are so sorry for your loss. This clearly illustrates something we repeatedly see, the power of relationships and the people around us.
Now, let's talk about obstacles in business. Can you tell us about any challenges you've faced, specifically as a woman in business, and how you overcame them? 
My biggest obstacle was believing that what I had to contribute, intellectually and business-wise, was worthy. The second obstacle was finding my voice and learning to speak it in a way that would be heard and valued–given weight and consideration. So, in essence, getting over "imposter syndrome," which is very real. It all goes back to believing that my contribution was worthy.
There is a three-episode series on my podcast, 'Your Authentic Path to Powerful Leadership,' where I break down Imposter Syndrome with my co-host Wendi McGowan-Ellis and guest Tracie Shipman. It's definitely worth a listen.
More than just those episodes, though, a lot of what I do is focused on helping women entrepreneurs overcome this. I can't remember who said it, but the quote is, 'history is not what happens; it's who tells the stories.' And that's part of what I want to do–Women learn in relationships.
Women thrive in relationships. And we create the time and space to have meaningful and, dare I say it, honest conversations.
That's the perfect segway into our next question. Because what our readers might not know yet is that your entire entrepreneurial career has been built around executive coaching and supporting women in their personal and professional development. Your 12-month program, The Power Of Self, graduated 20 cohorts of over 400 women and has been the birthplace of multiple global programs. On top of all that, you've received numerous awards and recognitions worldwide.
All this is to say you help women be their best in daily business and life. We'd love to hear just one piece of advice you would give someone just starting their entrepreneurial journey. 
It sounds simple, but I would tell them: know your values. Live your values, and be your best self. When all else fails, you have to fall back on your values. I had over 75 coaching clients during the height of the COVID pandemic. Remember, at that time, the world shut down, businesses shut down, and no one was sure of what was coming next. I had all of these executives saying to me, "I don't know what to do about this. We don't have best practices for this." Like all things at that time, it was completely unprecedented. But what it all came back to, when there weren't best practices or precedents, it all came back to VALUES. I learned that the hard way at EDS, and I live by it still.
If there is one thread we can pick from your journey, it is definitely that living and working in alignment with your values is vital to your overall success and well-being. We love that your entire story illustrates this beautifully, and now, in a full-circle moment, you're helping other women align with their values through your work. It's wonderful.
And now we'll move on to the fun stuff. We ask the same three questions of all the speakers. There is no pressure here, just three quick questions so the readers can get to know you. Let's go!
If you found yourself stranded on a deserted island, what three things would you want to have with you?
Well, my family. Not sure if that's allowed, but I would like them there with me. Even if that means they're stranded too. Seeds so we could eat. And a phone and battery charger. Not sure where I would charge it from, but I'd take that so we could hopefully communicate.
Who would it be if you had 30 minutes with one person, dead or alive?
Ruth Bader-Ginsberg. I love what she did in her career. She did it so quietly yet also logically and practically. I'd love to sit and talk with her.
What do you do for fun outside of your job and your business? 
I love to spend time with my family. So any family events with grandkids, every chance I get. I'm also an avid sports enthusiast, particularly the Dallas Cowboys. I have season tickets to their games. I read a lot. And I love making Christmas crafts.
We want to thank Marsha Clark for her time and remind you that she will be a keynote speaker at WeInspireTX Women Entrepnreuers' Summit on November 16th. Tickets are still available for this incredible event featuring Marsha and many other talented and wise female entrepreneurs from our area. 
In the meantime, you can find Marsha on LinkedIn. Her book, Embracing Your Power, is available at booksellers nationwide and her podcast, Your Authentic Path To Powerful Leadership, is available for download on all the major podcast networks.