You've probably heard the phrase, "When life hands you lemons, make lemonade." If you're a woman entrepreneur, you've probably used it yourself in challenging moments.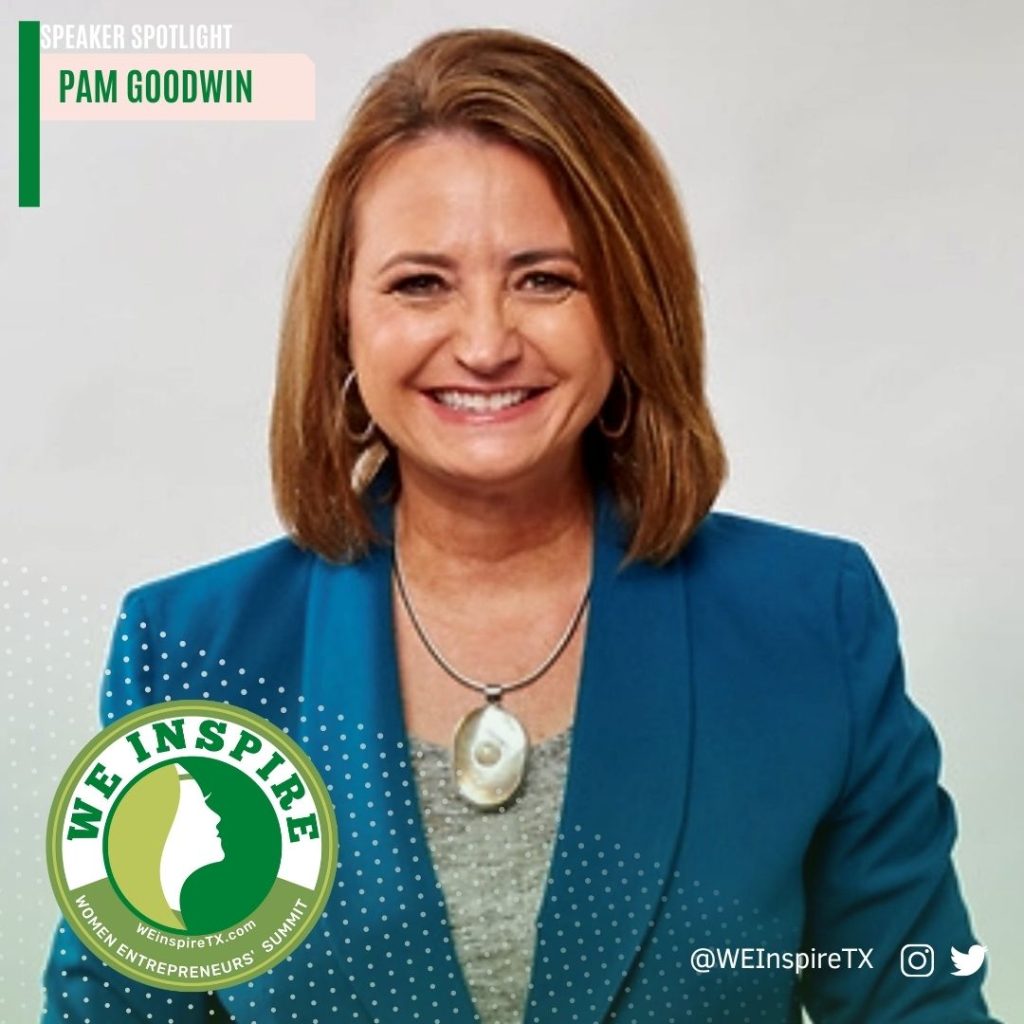 At some point along the journey of launching and starting a business, it's common to feel the squeeze of stress every now and then. Learning to expect the unexpected and tackle it with grace is just one of many themes running throughout the WE Inspire TX Women's Entrepreneurs' Summit, set for Nov. 15, 2023, in Fairview, Texas.
Our speakers and panelists cannot wait to share their insights and advice to help sharpen your entrepreneurial acumen and grow your business. We're continuing our speaker spotlight series over the next several weeks, so you can learn more about them all before the big event.
If you've made note of the lemon-scented puns so far, rest assured it leads us to the second of our two spectacular keynote speakers, whose entrepreneurial path began at age 4. Her trailhead? A lemonade stand.
Introducing … Keynote Speaker Pam Goodwin
Today a nationally recognized expert on commercial real estate and a highly trusted Texas broker, Pam Goodwin wrote the book on making lemonade. It's titled "One Cent Lemonade to Million Dollar Deals," and one of several she's authored over her more than 30 years helping clients set and execute successful real estate investment strategies. Her list of accolades and awards is long. Most recently D CEO Magazine recognized her among its 2023 Power Brokers for Investment Sales, and REDnews named her a 2022 Texas Icon. 023 Power Brokers – Investment Sales – D CE2022 Texas Icon – REDnews
From her childhood lemonade stand venture to her family's poultry business, Pam progressed into large shopping center development and developed more than 50 Chili's restaurants from the ground up with Brinker International. She translated her skills into a spectacular career in major commercial development and eventually started her own boutique commercial real estate and consulting firm in 2006, Goodwin Commercial.
She is a media personality with her own TV show, The Pam Goodwin Show, in which she interviews celebrities and entrepreneurs, all the while sharing her expertise in helping investors buy/sell property and build wealth. Known for her confidence, knowledge, determination, resourcefulness, connections, and finding hidden opportunities, her long record of success includes guiding clients like Walgreen's, McDonald's, and Chase Bank with their commercial real estate acquisitions, lease obligations, and consulting services.
While her industry knowledge and experiences are vast, her specialties include retail and restaurants, specifically single-tenant net leased pad sites, tenant representation, NNN investments, ground-up development, 1031 exchanges, SBA loans, and entitlement services. She offers mentoring, consulting, classes and speaking in person and virtually for groups and corporations. Pam believes in giving back to her community and serves as the chairwoman for the City of Lewisville Zoning Board of Adjustments.
Pam also is a breast cancer warrior who has made it a personal mission to encourage women to opt for advanced 3D mammograms for the earliest possible detection. In 2021, she co-founded the Kiss Breast Cancer Goodbye gala in Nashville, Tennessee, an event that has raised more than $237,000 to benefit Susan G. Komen to end breast cancer.  
In the flow of her many passions, she loves spending time with her husband, Eric, and two sons, Grant and Garrett. Pam's other favorite activities include traveling, cooking, and daily exercise. Born and raised in Omaha, Nebraska, she attended the University of Nebraska-Lincoln and Champions School of Real Estate.