Bosa Sebele, a Botswanian attorney, activist, and writer, is credited for the quote, "There is no force more powerful than a woman determined to rise."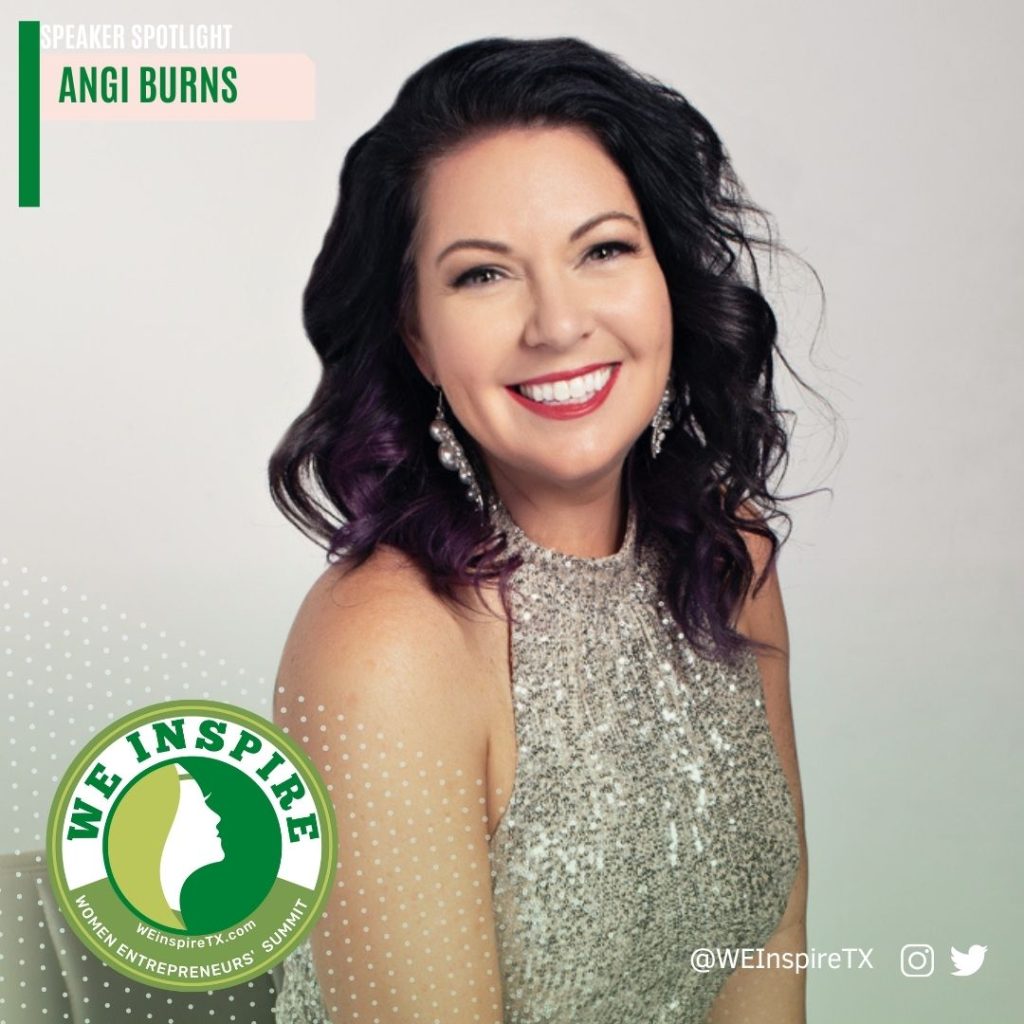 Isn't that the truth? And just think about what can happen when you put together a group of these determined women to share knowledge, experience, and support. Women inspiring other women — now that's a force multiplier!
Expect to experience that power at WE Inspire TX Women's Entrepreneurs' Summit, set for Nov. 15, 2023, in Fairview, Texas.
We have an incredibly inspiring lineup of speakers and panelists this year, all eager to share experiences and insights to help lift you up as you launch and grow your business. Throughout the morning, you'll hear from two fantastic keynote speakers, an all-star interactive discussion panel, and a bonus presentation, all guided by a stellar emcee.
Are you ready for introductions? We're featuring each speaker in the weeks to come so you can get to know more about them before the event.
Introducing … Our Fabulous 2023 Emcee Angi Burns
This week, we are featuring Angi Burns, our 2023 WE Inspire TX Women's Entrepreneur Summit emcee. Not only is she an entrepreneur herself, lucky for us all, but she's also an award-winning actor, emcee, and comedienne — kismet for a summit like ours!
Angi is a North Dallas area native, former local educator, wife to her husband, Gary, and mother to three children — Ash, Averly, and Jaxx. In 2022, she launched Allen City Lifestyle magazine, followed by Plano City Lifestyle magazine earlier this year. Today she serves as the owner and publisher for both luxury publications, combining her love for people and servant leadership to promote communities she's long loved and supported. Angi is active in local arts and non-profit organizations, which she says greatly informs and inspires her local coverage.
"My mission is to spread positivity, support, and inclusivity throughout the community by connecting people and telling the stories of community leaders and business owners through quality editorial content, beautiful photography, and engaging events," Burns says. "I am privileged to do this work — connecting members of the community and highlighting local businesses."
She serves on boards for the Red Lamp Foundation, the philanthropic branch of the Allen AMERICANS Professional Hockey Club; Shakespeare McKinney festival; and The Art of Coping, her daughter's art therapy initiative that supports young people who've experienced trauma.
Angi founded Ovation Academy of Performing Arts and is a go-to for coaching in acting, public speaking, and college auditions, as well as theatre and entertainment consulting, producing, and directing. She earned two undergraduate degrees – theatre and broadcast communications – at Southeastern Oklahoma State University and her Master of Education in education administration at Concordia University Texas.