"Be kind in the grind." – Entrepreneur & 2023 WE Inspire TX Power Panelist Sasha Crabtree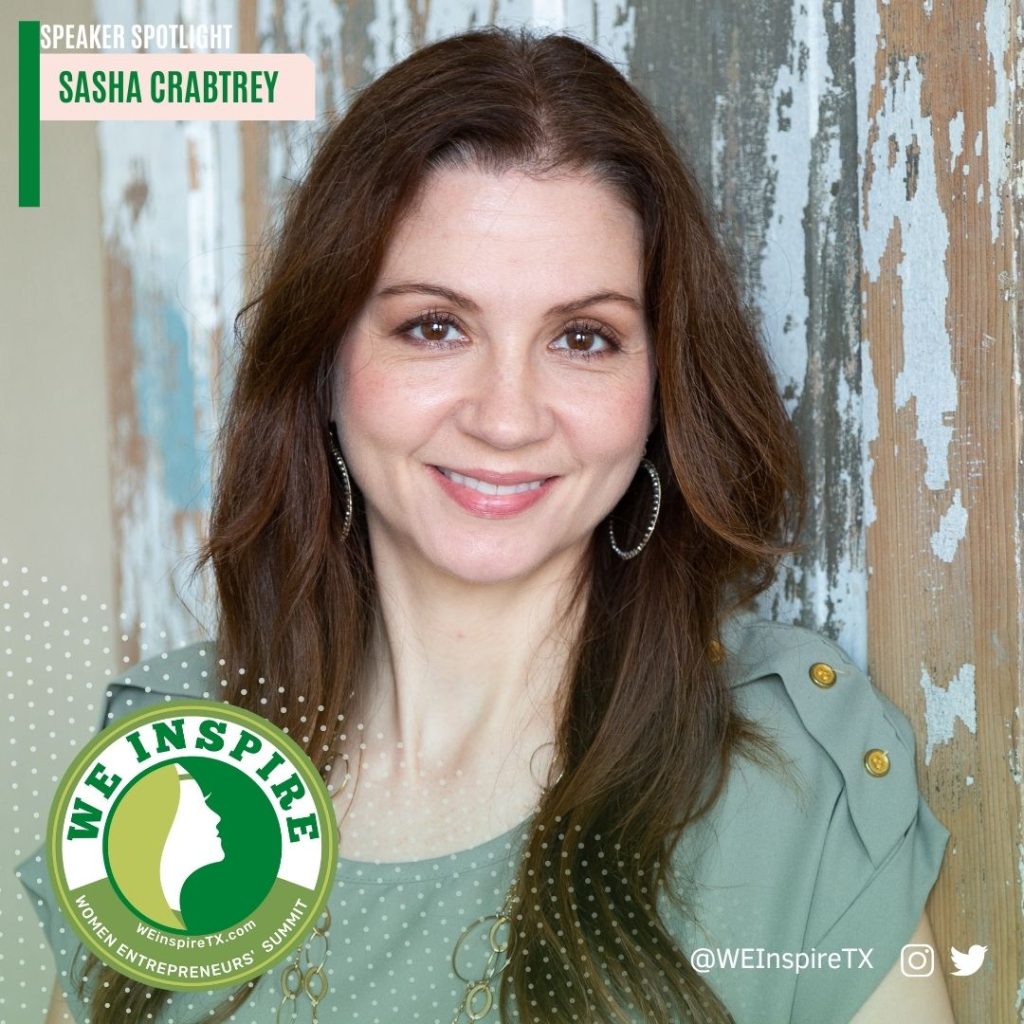 We've used some historic, famous quotes for many of our other speaker introductions for 2023 WE Inspire TX Women Entrepreneurs' Summit. With this one, we're using the words of one of our panelists, as it's a tagline (and merch line) that's inspired by her business operations services company. As Sasha puts it, "Be Kind in the Grind is a mantra that reminds us we cannot always control the circumstances, but we can control how we respond."
By now you've hopefully caught all the introductions for our incredible speaker lineup and can't wait to be there on Nov. 15. Catch up here on the other speaker bios to be sure you haven't missed a thing.
Now, back to our fourth Power Panelist who'll be sharing insights! You now know her mantra, so read on to learn more about her and her entrepreneurial journey.
Introducing … Power Panelist Sasha Crabtrey
If you're not there yet, once you start hitting capacity as a solopreneur, your business will come to a point where it's critical to move from working in it so you can focus instead on working on it. That's where Sasha and her team are superheroes.
She is the president and founder of Remote COO, a team of experienced operations and professionals specializing in strategies that empower growth. Sasha is passionate about providing cost-effective, administrative, marketing, and business strategy support services to small businesses and nonprofits.
Remote COO takes a proactive approach to transforming their client's goals and ideas into action through a collaborative process while embracing the company's core values: Faith, Integrity, Quality, Relationship, and Leadership. Sasha always leads by example, providing direction and development to ensure the team is equipped to deliver exceptional results.
Her business mind shone early in her childhood as she often played "office" and managed a small-but-mighty squad of siblings and friends as her pseudo-operations team. As she grew older, she took jobs supporting small businesses and continually found opportunities to work with entrepreneurs from middle school through college.
As Sasha progressed from one position to the next, first in corporate admin, and finally as the director of operations for a nonprofit organization, she realized her organizational prowess and project management skills allowed her to increase efficiencies and take on more responsibilities while maintaining a high level of service. Her impeccable listening skills and natural curiosity led her to ask just the right questions and allowed her to build strong relationships and collaborate with others along the way. She also realized that she could successfully and efficiently help business owners manage their businesses without needing to share an office space. She recognized her ability to provide the high level of support entrepreneurs and nonprofits needed fractionally, and so, in 2006 Remote COO was born.
As a solopreneur, Sasha was managing an overly full load of small business clients well into the first five years of her business. She was burning the candle at both ends, her family was being affected by her long hours spent supporting her clients, and she knew she needed to hire a Sasha of her own! As she hired and trained contractors, she realized she had developed the framework and processes necessary for the foundational support that solopreneurs and small businesses need to maximize their focus on their expertise.
As she says, "The continual goal is to make the business work for you."
Sasha has a Bachelor of Business Administration degree from Texas A&M University Mays Business School with a concentration in management. She completed the Goldman Sachs 10,000 Small Businesses Program in the Fall of 2019.
Sasha was featured in the Houston Business Journal in 2013 in the Strategies section as the "Stand-by Assistant" and has been a guest on several podcasts, including Aggie Growth Hacks.
And when she is away from work, she enjoys spending time with her husband, two adult kids, three cats, two dogs, two goats, a pet deer, and cattle on her ranch in Central Texas.