Lifelong culinary enthusiast Christine Henry-Musa has always been mindful of her health and wellness, but when she learned she was expecting her first child, that lifestyle became her most important responsibility.
Throughout her pregnancy, she focused on eating fresh, natural, and organic foods to support the baby's development. When her son arrived, her focus shifted to making organic baby food and other nutritious meals from scratch.
Like many other working parents, she struggled to maintain this standard of homemade, gourmet cooking for her family. Many days, there was hardly any time to breathe let alone plan a healthy meal, grocery shop, cook, and clean up.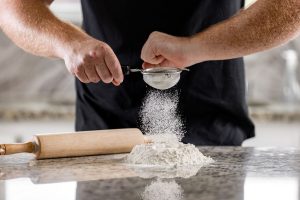 Christine's dilemma led her to create Select Chef, a modern, in-home personal chef experience catered to individuals who are professionally busy, personally busy, and in need of an occasional or recurring assist.
"Our primary purpose is to give people more time in their lives so that they can do the things that they love," says Christine. "I had the idea for this business many years ago, but the vision solidified in my heart once my son was born. I knew that the quality of life benefit of this business could be invaluable to working parents like myself. Equally important, our members don't have to sacrifice quality, nutritious meals because they lack adequate time to make them."
With the same ease a person would go online to order food delivery, it's that simple to order an in-home, personal chef experience. There's no meal planning, shopping, cooking, or cleaning up.
Membership plans and menu items are outlined on the Select Chef website, with the ingredients listed and kids' picky palates taken into consideration. Customizations are welcome for those who need gluten-free, vegan, or other accommodations.
"You can personalize your membership to fit your lifestyle," says Christine. "If you're a busy, working professional and you'd like us to provide you with a high-quality, gourmet meal the entire week, you can use us on a daily basis. If you only need us for one or two nights per week to relieve your schedule a bit, we can do that for you."

Christine Henry-Musa, CEO & Founder, Select Chef
The idea of hiring a private chef may seem like a luxury, but this isn't about extravagance, it's about self-care. It's about taking something off your busy plate and to redeem your time and rest. It's not uncommon to hire someone to clean your home, or mow your lawn. Select Chef is another way to support your busy lifestyle. Christine adds, "The chefs do the shopping, cooking, and even the clean-up. They bring all of the equipment, so you don't need to worry about a thing. The whole idea is to take the burden and pressure off of our members!"
Ready to host a dinner party with close friends? A milestone anniversary or a client appreciation dinner? Chefs can serve groups of 2 to 8 people, ensuring intimacy and personalized service. You're freed up to be a relaxed and fun hostess for your guests, rather than stuck in the kitchen.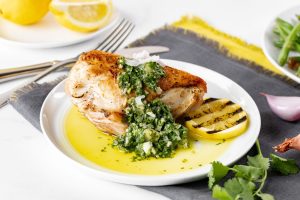 Another benefit, while many families are reluctant to go out to dinner due to COVID-19, Select Chef offers a safer, more comfortable dining experience they can enjoy at home.
While the concept has been successful, it was Christine's personal experience using the service that confirmed she's on the right track. She shares, "It was the first time all week that I sat down and ate a meal. For once, I wasn't running around eating while standing or dividing my attention between Gabriel and food prep. I sat down and the Chef took care of everything. I wouldn't have given myself the opportunity for this kind of self-care if I hadn't already scheduled it with Select Chef. It forced me to take the time for something I really needed."
Select Chef serves the entire Dallas/Ft. Worth area, but as a resident of the Town of Fairview, Christine is eager to see the business grow in her own community. "For me, it always comes back to the value that Select Chef can provide to the busy families here and the opportunity to relieve one stressor we all face daily. I would love for Select Chef to have a positive impact on the quality of life for the busy households in this area."
Christine and her team believe you deserve a night or two (or three) off. Learn more at www.selectchef.com, and tell them "Super" Dave sent you.
###
If you are interested in learning more about Fairview and the opportunities that exist here in our community we would love to schedule an introductory call and learn more about your needs so we can help guide you through the process of becoming our neighbor like Christine. Book your call here.