Wendi McGowan-Ellis, Founding General Partner at Cassandra Capital, is, quite possibly, the definition of an accomplished female entrepreneur. We can and will spend time discussing her various endeavors and try our best to soak in all her knowledge and experience. But we'd be remiss if we didn't spend some time sharing how amazing she is away from the boardroom. She's an accomplished painter, encourager, mentor, and voracious reader.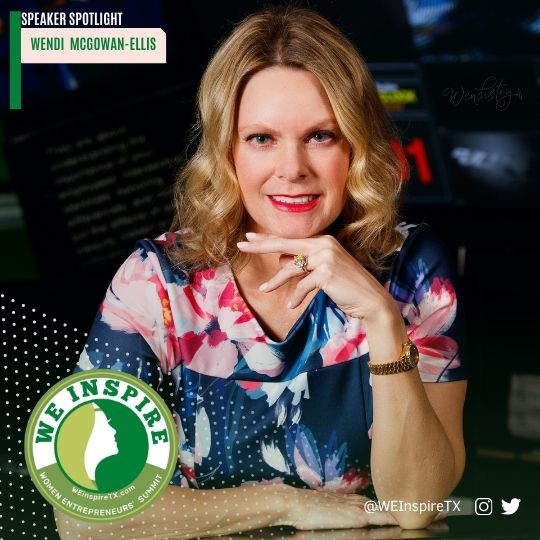 If there is a list of people you should know in our area, she is on it. And we are grateful to have her as the Emcee for our WeInspireTX Women Entrepreneurs' Summit in November. She has so much to offer, and we cannot wait to introduce you to her today.  
Thank you so much for taking the time to chat with us today, Wendi. Before we begin, please give us a quick overview of your bio so our readers can get to know you better. 
Sure. I have over 20 years of intra- and entrepreneurial experience. I am the CEO, Executive Producer & Co-Host for Hire at Wendistry, LLC, a podcasting production company for c-suite women. I am also an operator turned investor as the Founding General Partner at Cassandra Capital – a newly launched North Texas private equity firm focused on investing in growth-oriented, women-owned and operated companies.
That's incredible. You not only are launching your own companies, but we love how you are, in turn, helping other entrepreneurial women begin theirs. It's truly the definition of giving back and an excellent business. 
However, we're sure it wasn't on your radar as a young girl to become a podcast co-host or an equity firm founding partner. What did you want to be when you "grew up," and do you see any relationship to what you do today? 
I wanted to do so many things… a psychologist, an artist, a law professor, a detective, a socialite, a journalist, etc. With each book I read in junior high and high school, I "tried on" different career paths. I think that's why I majored in Economics… that broad business, yet also philosophical, education that has been the foundation for the entrepreneur I became.
What a testament to the power of books to transport you beyond the world you live. We know that you are still, to this day, a life-long learner and lover of books. We're sure we'll talk a bit more about that. In the meantime, let's talk about risk. It's a massive part of all entrepreneurial journeys, so can you tell us the most significant risk you've ever taken as a woman in business? 
I've found that as I get older, I continue to gain comfort with risk, so what I'm doing now… Founding Cassandra Capital is a considerable risk.
To give our readers some more insight, Wendi's company Cassandra Capital is a female-founded private equity firm that invests in growth-stage, women-led companies. They believe that when women invest, we'll have better companies, stronger teams, and more effective products and services that will enhance our lives. It is a company created by women and for women, and even if it is a significant risk, we're here for it and excited to see how Wendi and the team grow. 
Now, let's talk about obstacles because it's not always smooth sailing as women in business. Can you tell us about the biggest obstacle you faced as a woman so far? 
This is a much longer and complicated story, but the gist of it is… in my early 30s, a misogynistic boss who harassed and terrified me combined with a gaslighting first husband equaled you have to have a breakdown to enjoy a breakthrough.
Unfortunately, we know that none of these are unique, and women face all three obstacles–bosses, husbands, a fear. But we're lucky to have mentors like you to guide us through it. Speaking of mentorship, what is one piece of advice you'd like to pass down to women entrepreneurs coming up behind you? 
Simple and to the point, but it's got to be that your failures become your victories. Keep going.
That one is so full it doesn't need to be anything other than short and sweet. Thank you for sharing. 
Now, let's get on with the good stuff. We always ask three simple non-business-related questions to give our readers a chance to get to know you better. No pressure on these; they're just fun. So let's get started.  
What three things would you take to a deserted island, and why?
Books – To explore "worlds" off of the island. Paints/Canvas – To depict those visions. Wines – To expand those visions.
What do you do for fun outside of your job? 
Read Agatha Christie; paint portraits and landscapes.
And finally, who would it be if you could sit down and talk for 30 minutes with anyone, either a historical figure or someone alive today? 
Leonardo da Vinci
See a pattern? We do.  
Thank you so much for taking the time to chat with us, Wendi. We are so honored to have you as our event Emcee, and we can't wait to get to know you better in November. If you are interested in attending, tickets are still available. Visit our website for more details and to purchase your ticket today. 
In the meantime, follow Wendi on Instagram and LinkedIn for updates about her business ventures and the encouragement she often shares there.