Tami Gilmore is a woman who has worn a lot of hats. Wife, mother, teacher, counselor, wilderness expert, and business owner are just a few of them. But have a conversation with her, and you'll find that, like many of us, she hasn't been all those things at once.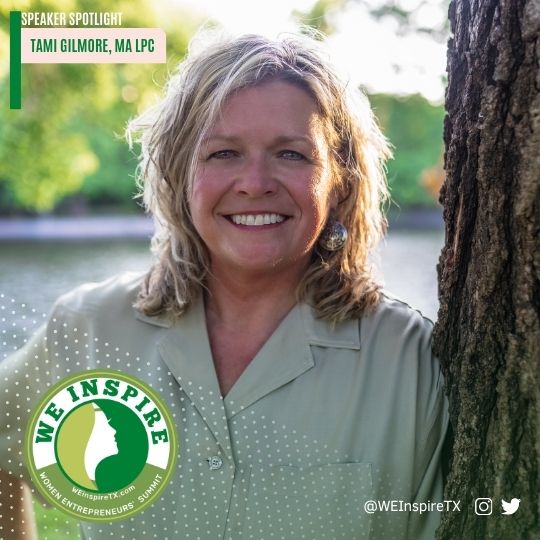 Instead, her journey has been winding, filled with left turns, pivots, and stumbles. But through all of the hills and valleys, she has maintained a wisdom and wild-eyed wonder (the same one that caused her to fall in love with the wilderness in the first place) and has managed to build a beautiful business along the way. We're so excited to have Tami as a speaker at our upcoming WEInspireTX Women Entrepreneurs' Summit in November. We know that after getting to know her, you will be too.
Before we begin, please give me a little bio, so the readers know who you are and what you do. 
Well, my professional bio would go something like this: 'Tami Gilmore is a practicing Licensed Professional Counselor with a BA in Psychology and an MA in Counseling. She is the founder of Heart Of The Wild Wellness & Wilderness Therapy Retreats, LLC. She is an EMDR trauma therapist, a Certified Wilderness therapist, and is certified by NOLS in Wilderness First Aid. She works with combat vets, first responders, and many clients that suffer from PTSD, CPTSD, anxiety, depression, and other trauma-related problems. In 2015 her love of nature, outdoor adventures, and helping others led her to train in Wilderness/Nature Based therapy with Katie Asmus, a pioneer in Wilderness Therapy, at Somatic Wilderness Therapy Institute.' But that leaves out that I'm also a business owner, wife, mother, and outdoor enthusiast. I am passionate about sharing and teaching others about the benefits of being outside (that science is now proving to be true). Or that in my spare time, you'll find me OUTSIDE hiking, tree talking, or hanging out with my AMAZING grandson at local parks.
Okay. Well, that is the whole kit and kaboodle of a bio. Thank you so much for sharing. Now tell us what you wanted to be growing up and how you got from there to where you are today. Are they related at all? 
Growing up, I wanted to be a teacher. I would practice on my siblings all the time. I'm sure they just loved that. But, when my sons went away to college, I knew somehow that I wanted to do more, so I got my Masters in counseling. When I finally realized that I could marry my love of the outdoors with my love of helping people overcome trauma, I felt like it was a lightbulb moment, and I instantly knew I had found my "it." Now, if they're related other than being in the 'helping' professions, I'm not sure.
So, you've had many pivots in your career? Do you have any advice for the woman considering her own pivot right now? 
My pivot wasn't instantaneous. It was a journey. But the biggest clue that I needed to make one was when I realized I wasn't following my heart. When you allow yourself to get still and listen to your heart, it tells you a lot about what you should or shouldn't be doing. Following your heart will also mean following your path, even if that means making a pivot (or two). And if you are a young woman reading this and wondering how on Earth you can listen to your heart because it seems silent, I'd tell you to get still. The world is loud, but if you allow yourself time to get still (20 minutes a day even), you will eventually hear your heart and find your path.
Excellent advice. Now let's talk to the young woman at the start of her career, not in the middle. What advice do you have for her? 
I would tell her to look at her core beliefs about herself. Sometimes there are unconscious beliefs about women in business that we learned implicitly, and they can covertly look like self-sabotage. I'm older, and the implicit messages I received were that women are not to be big – physically or energetically. We are to be supportive and nurturing. I was taught this by the actions and beliefs of all of the women role models in my life and in the way that men talked about strong, outspoken women. A shorter way to say this is not to get in your own way with beliefs that were passed down to us from those who struggled before us. Another great book about this is Playing Big by Tara Mohr. I recommend it to all women in business.
That is great advice and an excellent recommendation. We have already placed a hold at our local library.
Okay. Now let's talk about obstacles in business. Are there any you can think of that you faced specifically as a woman? And how did you overcome them? 
My biggest obstacle was myself – in my first private practice, my partner was a man. We started the business with my money, but he took over how we ran things, and for some reason, I let him – I deferred to him for most of the decision-making. There was something there that was unconscious, probably what we just talked about, but it took six months for me to speak up on my behalf. By then, it was too late because he was offended and thought I was accusing him of taking over – which wasn't true – I allowed it without protest. It was a hard lesson, but one I'm glad I learned. Now, most of the people on my team are women. This wasn't intentional, but I have become a lot more selective about who I let on my team, and I want them to be selective in what they allow as team members as well.
Last business question before we get into the fun stuff, what's one thing you would do differently if you could go back and start again? 
I would have taken a small business course with the SBA or something similar to the Goldman Sachs 10k small business program. If I had, I would be in a very different place than I am today. I could have sold my first business. That's another piece of advice, then, for young entrepreneurs. Invest in yourself. Take the courses. They do help.
And now for the fun stuff! What do you do for fun outside of your job? 
I love hiking and being in nature in general – in my garden. I love to learn through reading and dancing, and having dinner parties.
Who would it be if you had 30 minutes to pick the brains of one person, dead or alive? And why? 
Oprah! This is always my answer – I'm so very inspired that she is such a profound success while being handicapped by her race, gender, and traumatic childhood. She was abandoned by her mother and father and raped by her uncle, yet as a black woman, she has a powerful voice. She became an entrepreneur in 1998, starting her own production company and owning and producing her show. We know her successes, but I'd love to know her struggles as an entrepreneur.
We cannot argue with that answer. Everyone should want 30 minutes with Oprah. Everyone. 
We are grateful to Tami for sitting with us and having this conversation. She brings so much wisdom and experience to every event and interview, and we cannot wait to hear what she shares at the conference. There are still seats available, so check out the conference website and grab your tickets today. 
Also, for more from Tami, follow her on LinkedIn and Instagram, where she shares her wisdom and knowledge with honesty and vulnerability.