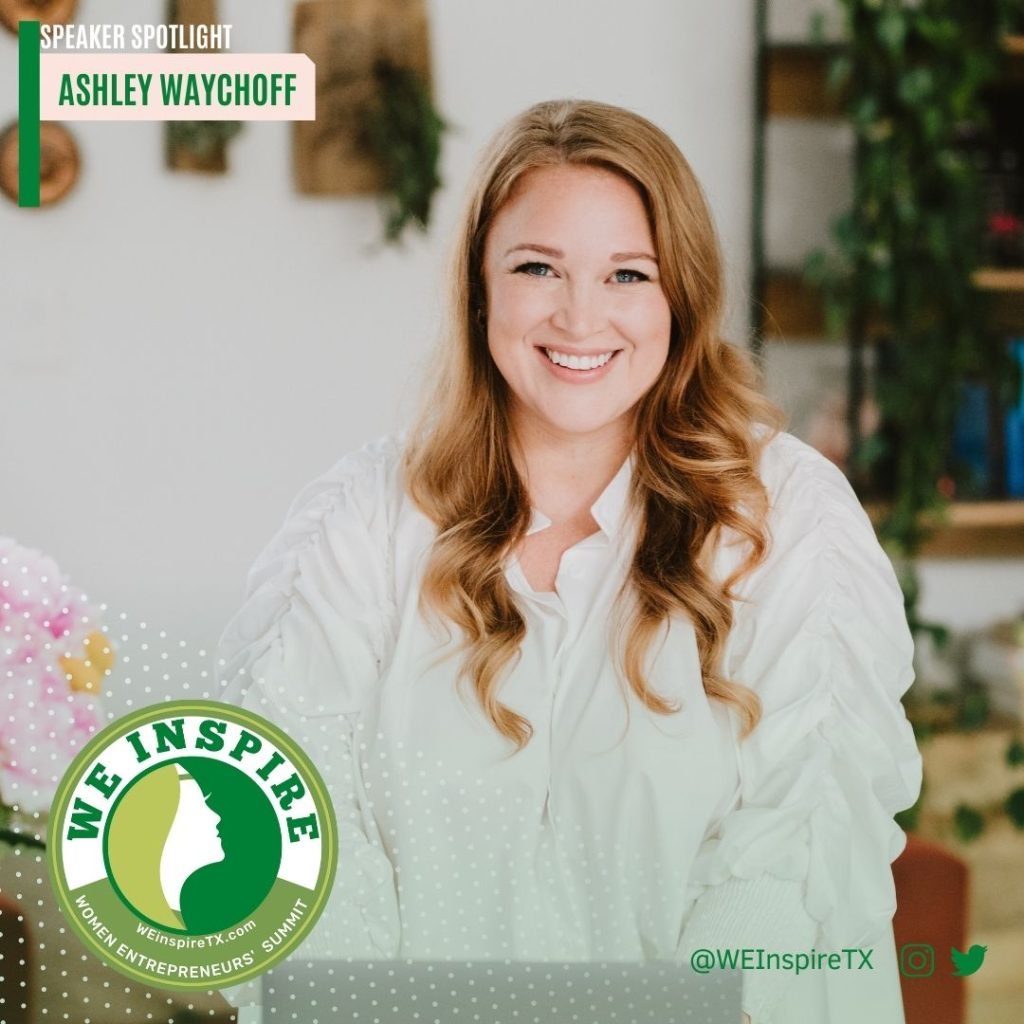 Some girls want to be ballerinas when they grow up. Others want to be actresses, singers, teachers, astronauts, or scientists. But not young Ashley Waychoff–she wanted to be a businesswoman, complete with the corner office, an assistant, and a view of the city. Now, she is the first to admit that she doesn't have a city view in her home office right now, but other than that, she's pretty much stayed the course of her childhood dream. She has built her business that helps her support female entrepreneurs in one aspect of theirs that often goes neglected, finances.
Beyond being a business owner, Ashley is a passionate advocate for following your dreams. We know she will drop some profound wisdom as a power panel member at WeInspireTx, our Women's Entrepreneurial Event, on November 16th. However, before she sits down and chats with us next month, we wanted to give you a chance to get to know her better. We promise this daring, bold, and wise business leader has a lot of knowledge to impart.
Before we begin, please give us a quick rundown of your bio. Just so our readers can know who you are and what you do.
Absolutely. I am a small business accountant who focuses on helping female entrepreneurs better understand the numbers in their businesses. I genuinely believe that clarity around a business's financial side is just as crucial to its success as the quality of what they sell. I offer bookkeeping and advisory services and tons of resources for business owners who want to keep their accounting in-house. Other than that, I love wine, cheesy movies, and helping women succeed!
We love that you use your skills in accounting to help other women succeed in sharing their skills, whatever they may be. But we imagine you didn't start immediately with this business plan. Tell us about the evolution of this dream from childhood to where you are today.
This is always a funny conversation in my family! While most kids wanted to be a ballerina, as a kid, I wanted to be a businesswoman who worked in one of the tall buildings with windows and had an assistant. That was the dream. My parents are entrepreneurs, so I think it stems from that.
I originally went to school for engineering because I was attracted to science and mathematics. But it wasn't until I switched to accounting that everything clicked. Even then, there was always a part of me that was very outgoing and creative, and I feared that I would be stuck in some back cubicle crunching numbers with no chance to appease my extroverted self. I was lucky because the first CPA firm I worked for allowed me to explore multiple aspects of the business right out of college. From there, I began to see that I wanted to find a way to serve women in the financial space, and I do that by offering various services and products to all levels of businesses, budgets, and needs.
Wow. So tell us about the transition from working in a firm to owning your own business. How did you find clients? What was the essential part of your growth as a new business owner?
The first thing I would say is that my business is built around relationships. All of my original clients were referrals and word-of-mouth recommendations from friends and business owners to each other. It wasn't until the pandemic that I could dig deep and create my online presence, take a coaching course, build a website and begin to show the world "Ashley," not just Pretty Penny. I think that has been a significant turning point and helped me feed my extroverted side as well.
Well, normally, we ask people what their most significant risk was, but we have a pretty good idea of what yours might be. Care to tell us anyway? Of course, it was leaving my 9-5 job to start my own business! But even then, since starting my business four years ago, I've taken many risks – hiring coaches, and employees, changing niches, etc. All have paid off!
Ok, what advice do you have for the young female entrepreneur who wants to strike out on her own but is afraid of leaving the safety and security of a steady 9 to 5?
Trust yourself, and don't look back. We only have one life, so if there is something you can't stop thinking about, don't! Don't quit your daydream. Keep dreaming about what you want to do and where you want to be, then take baby steps to get there. You truly can do anything you set your mind to.
We understand that your business, Pretty Penny, has evolved along the way. And while you don't exclusively work with woman-owned companies, it is your focus. Can you tell us what led to that evolution?
It took a while for me to embrace that evolution fully. It's scary letting go of a part of your business. It's a risk. But a few things made working with female entrepreneurs more appealing to me. The first is mutual grace, graciousness, and mutual understanding. There seems to be a better understanding that things may come up in our business relationship that requires flexibility. The second thing is that our female clients seemed to trust our advice more and were more likely to get vulnerable about their businesses and needs. They seem to respect what we're doing.
You mentioned that it took a while for you to make the move which essentially let go of part of your business and income. But you knew it was the right way to take your business. How do business owners overcome that fear?
Being a business owner at any level is scary. You're taking risks; every decision you make is affecting the business. There is fear along the way, and it comes down to trusting your gut. And trust yourself to know that whatever decision you make, you will do what it takes to make it happen. I think that's what happened with me for this move, I knew in my gut it was the right evolution for the business, and I trusted myself enough to know that if I went in that direction, I would do everything I could to make it happen.
That is some sage advice there. Ok. Last business question before we get into some fun stuff. What is the biggest obstacle you have faced in business as a woman (and how did you overcome it)?
I think as an entrepreneur, we face obstacles daily. As a woman, things can be just a little bit harder. I've been lucky enough to have a lot of support and an entrepreneurial mother who told me I could do anything I put my mind to. But I often think society trusts men chasing their dreams more than women. Women are told to stay in safe jobs or follow the norm. Breaking that mold can cause people to ask a lot of questions. It's mostly coming from a good place, but it can be tough on confidence. As a woman running a business, you must remember that being a woman is your superpower.
Now for the fun stuff! What do you do outside your life as a business owner and CPA?
I spend as much time with my fiance, friends, and family as I can! Traveling, trying new restaurants, and walking with my dog are a few of my favorites.
If you could only take three things with you to a deserted island, what would you take and why?
A knife for eating, protecting, and building a home. A friend – can this be one? Because I would need someone to keep me company! And a "Survivor for Dummies" book because I'd have no idea how to live on a deserted Island. Haha!
And last but not least, if you could have 30 minutes to pick any person's brain, dead or alive, who would it be? And why?
My fiance's father. He passed last year, and I'd do anything for a bit more time with him.
Oh goodness, we are so sorry for your loss. If we could grant you that wish, we certainly would.
We want to thank Ashley for taking the time to chat with us and urge you, again, to grab your tickets for the WeInspire Women Entrepreneurs' Summit on November 16th. You can get them at www.WEInspireTX.com.
In the meantime, please give Ashley a follow on LinkedIn and Instagram, where she shares financial tips, business knowledge, and just general "Ashley," just as she said.
MIC DROP QUOTE:
I often think society trusts men chasing their dreams more than women. Women are told to stay in safe jobs or follow the norm. Breaking that mold can cause people to ask a lot of questions. It's mostly coming from a good place, but it can be tough on confidence. As a woman running a business, you must remember that being a woman is your superpower.

Ashley Waychoff, Pretty Penny