Some entrepreneurs will tell you that the jump to business ownership was fluid and a natural next step in their career progression. Michel Hurst, owner of Studio 9897, might not be one of them. Her jump to business ownership was more of a superstorm (literally, you'll see) of cataclysmic proportions. But at the end of the day, this Native Texan will tell you that owning her design firm is truly the culmination of all of her childhood passions despite its tumultuous beginnings.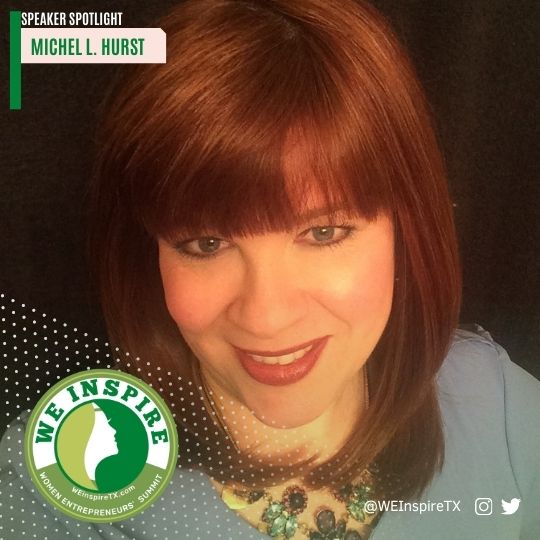 We are thrilled to invite Michel to our Power Panel at the upcoming WeInspireTX Women Entrepreneurs' Summit in November. As you'll soon read in this introductory article, she will surely bring wisdom, style, and a touch of fiery redhead humor to the stage.
Hi Michel. We're thrilled to introduce you to our readers. So let's begin with the easy stuff. Please give us a quick overview of your bio. 
First, I'm a native Texan and very proud of this fact. But I'm a relatively new entrepreneur. I've always had it in me, but only in the last few years did I realize that dream and struck out on my own. Besides that, I'm a fiery redhead, registered interior designer, and owner of Studio 9897 here in the DFW area.
We love it. Native Texan Fiery Redhead? The perfect combination. Now, you mentioned that you're a relatively new entrepreneur. Can you walk us through the journey that got you here? Was it smooth and easy or a little something more complex? I always knew that I wanted to be in the design space. My Godmother is a decorator, and while I knew I didn't want to do that because I had no desire to be a marriage counselor, I was attracted to the design space. I'm a rule follower, so the codes and regulations you must follow as a designer appealed to me. I still love to work outside the box, but I also like the confines of the codes.
I had been in the design space in the DFW area for 20-plus years, but in the winter of 2021, I was forced to go out on my own. On February 13th, I learned that the design firm I worked for was dissolving its Dallas office. I'll never forget that it was Friday the 13th, and it also happened to be the day the massive snowstorm hit Dallas. Over the following week, we had no power and no water, we were freezing, and I was out of work. I used that time to do some massive soul-searching during that shutdown and realized I had to go out on my own. Once the world opened up, I started calling my contacts and was given two projects by two of my absolute favorite brokers, and I was up and running.
WOW! Friday the 13th lived up to the hype for you. How scary to be forced out on your own like that. We're sure it was difficult and a huge risk. Tell us about that risk and what helped you get established in those early days. 
If you were to ask me my most significant risk, I would doubtless say it was stepping out on my own with no big firm, no insurance, and no spouse to fall back on. Faith is the answer!
But I also believe the relationships I maintained throughout my career were essential to my success with Studio 9897. I'd say that 99% of my relationships are at least 20 years old, predating the two years I spent at the design firm before going out on my own even. I attend many business functions and networking events, and the connections I establish at these events carry over to the growth of my own business. Sometimes not directly, but they always do.
That speaks to the incredible power of relationships in business, for sure. What's your best advice for women looking to establish these networks but lacking the confidence or the know-how to do so? 
The first thing you've got to do is get out of your comfort zone. Networking events can be tricky, especially when you're alone and don't know anyone who will be there. But the more you do it, the easier it gets.
I always approach new connections from a servant leadership perspective. When talking to a new person, my favorite questions are, 'Who do you need to meet? Who is your ideal client?' As they answer me, I scan my mental Rolodex to think about who I know that I can connect them to. I approach each conversation focused on them, not on myself. I put other people first. I don't think they teach this in school, and we're at a point where we're so busy staring at our phones that conversational skills are falling by the wayside, but it's so important. It always comes back full circle to you when you lead with a people-first mindset.
The other thing I think is invaluable, and young entrepreneurs need to learn, is to get their elevator pitches down straight. You want it to sound natural and not rehearsed but fluid without much fluff. I've heard it should be 5-7 words, and that's it. You want to effortlessly be able to sell yourself in the first few seconds so you don't lose your audience. If you can say who you are and what you do efficiently, you'll get attention, and that's where it all begins.
OK. That is a massive piece of wisdom you just dropped, and I hope everyone is taking notes. We love how you've managed to build authentic relationships throughout your career that are now transitioning to your own business—what a valuable lesson about the value of connection.
But let's switch gears to the fun stuff just briefly so that our audience gets to know you as a person and not just a business owner. We've got three questions we ask everyone. Let's run with them.
What do you do for fun outside of your job? 
I love attending wine tastings, festivals, art and cultural events, and music venues. Anything in that art and design space interests me, even in my 'fun time.'
What three things would you take with you to a deserted island? And why? 
A journal and a pen to write about the experience. My dog for company. And sunscreen- for my fair skin.
Who would it be if you had 30 minutes to pick the brain of any person, alive or dead? And why? 
Diana, Princess of Wales. She was my childhood role model, and her grace, beauty, and resiliency were admirable.
Thank you so much, Michel, for taking the time to talk with us and sharing your story, wisdom, and time. We are so excited to hear you speak at our upcoming WEInspireTX Women Entrepreneurs' Summit. We have no doubt you will provide so much value to our attendees.
Tickets are still available for the conference. You can get them on our website, https://weinspiretx.com/. 
In the meantime, to hear more from Michele and Studio 9897, follow her on LinkedIn. 
MIC DROP QUOTE:
The other thing I think is invaluable, and young entrepreneurs need to learn, is to get their elevator pitches down straight. You want it to sound natural and not rehearsed but fluid without much fluff. I've heard it should be 5-7 words, and that's it. You want to effortlessly be able to sell yourself in the first few seconds so you don't lose your audience. If you can say who you are and what you do efficiently, you'll get attention, and that's where it all begins.

Michel L. Hurst